There's just something about having the ocean and sparkling waterways at our beck and call on the Gold Coast that makes us feel pretty lucky. But how often do you truly take the time to appreciate it?
Pull up a lounge, a seat or a bar stool and get ready to discover the top Gold Coast waterfront dining spots you've just gotta check out.
Seascape
If you think that Surfers Paradise is all sticky pub floors and young ones wooing down the street – think again. Seascape offers a secluded escape from the general hustle bustle within its walls reminiscent of a coral sea floor. Opt for indoor seating overlooking the big blue or lounge outside and breathe in panoramic ocean views and fresh, sea salt air. Six fresh fish species are offered daily – and that's just the start. Pairing eclectic dishes with boutique wines, Seascape earns their spot as a top Gold Coast waterfront dining spot.
Edgewater
Got a spare boat laying around? Then you're in luck, because Edgewater allows cap'ns just like you to moor vessels on their newly designed pontoons while you stop for a bite to eat. Ahoy! Serving breakfast, lunch and dinner, Edgewater's absolute waterfront spot with sky high windows is dubbed a true Isle of Capri highlight (and, hello morning mimosas). Whether you're basking in the day's early rays or gazing at Surfers Paradise's mesmerising skyline come night, Edgewater's showstopping views and stellar menu makes them a top Gold Coast waterfront dining spot you're not going to want to miss.
The Fish House
Ah, Burleigh Hill. Notoriously picturesque and the ideal place for an afternoon stroll by the sea, Burls has our hearts. We can completely see why the locals love catching up over a fine dining experience at The Fish House. Like, who wouldn't get a belly full of excited butterflies after hearing of the Blue Swimmer Crab Risotto? Famous for their melt-in-your-mouth fresh seafood, breezy locale and breathtaking views, The Fish House can host your next luxe event, catch up or romantic dinner for two.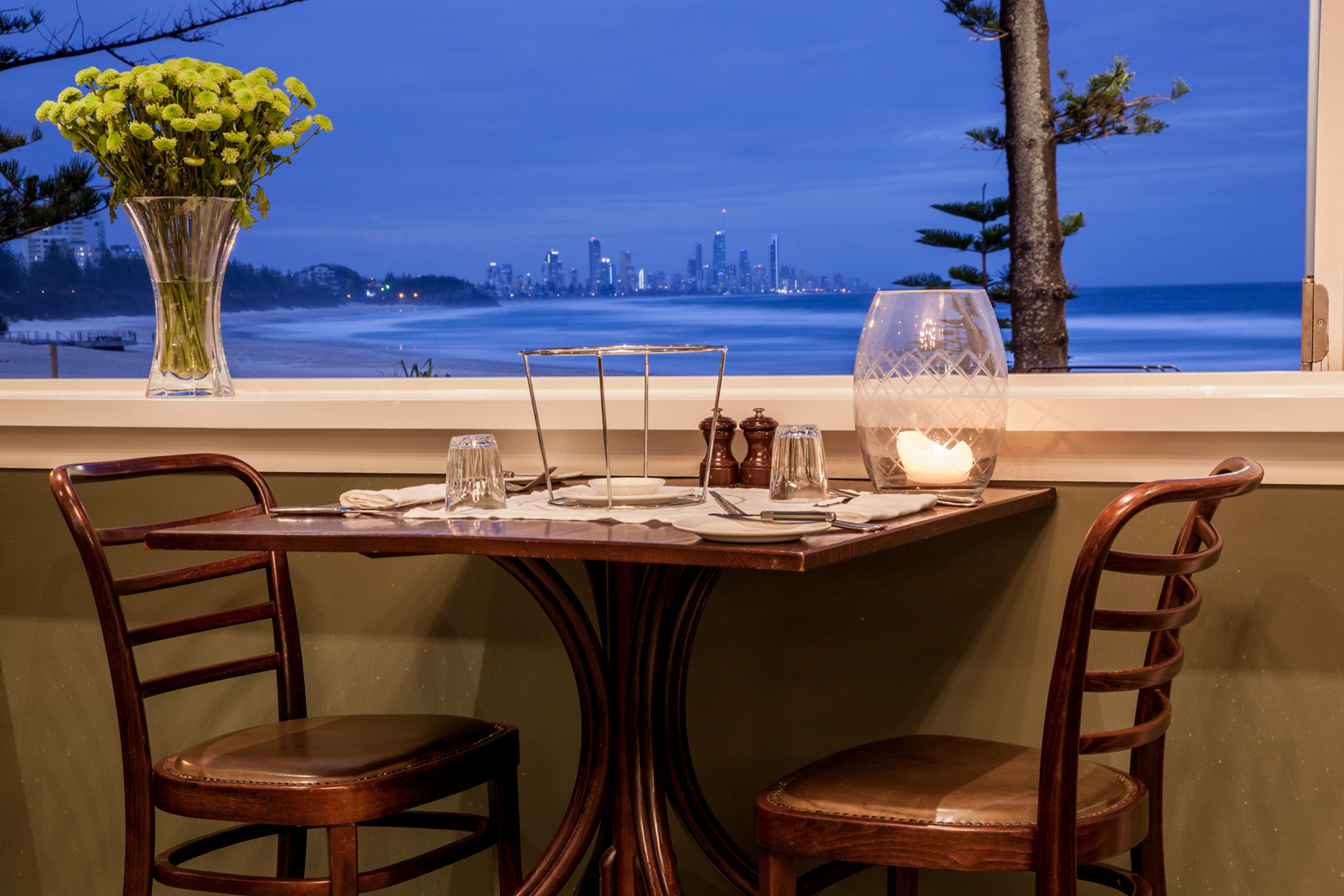 Currumbin Beach Vikings Surf Club
Would you believe us if we told you that the Currumbin Beach Vikings Surf Life Saving Club is built on the actual beach? Yep, it's true. So, as well as your parmy and a pot, at this waterfront pozzie you'll also get lapping waves at your feet – how good is that?! Kick back and let the good times roll in the southern ends most iconic surf club. And if you're planning on eating like the locals, drinking like the locals and chatting away the evening like the locals, the vikings have you sorted with a courtesy bus running between Tallebudgera and the Gold Coast airport.
Cafe Catalina
When was the last time you checked out Southport's Broadwater Parklands? Yep, this pozzie has stepped things up a notch. With live music, a full blown aquatic centre and the absolute waterfront Cafe Catalina, you heard it here first, folks – these guys are a true competitor for the top Gold Coast waterfront dining spot. After all, they're right by the Broadwater and the Gold Coast Aquatic Centre. Take your pick from fresh seafood, refreshing cocktails – even bring along your pooch. And if you're looking to host an event with a difference, Cafe Catalina is just the place.
Glass Dining and Lounge Bar
Some days you just want that million dollar luxury experience. And just quietly, Glass Dining and Lounge Bar 100% delivers. Set on Main Beach's Marina Mirage, enjoy absolute waterfront dining fit with yacht watching and Moët. Catering to all preferences, dishes range from Italian, seafood and cheese boards, right through to Texan-style ribs. Order a cocktail (we recommend the Apple Elderflower Collins), sit back and lap up all that the bay area has on offer.
Photo Credit: Destination Gold Coast