You know what they say, the local's know best – so why not hang out where they've raved about? We've got your local's guide to Palm Beach sorted for beauty, shopping, eats and more.
Coffee Fix
Waking up your bleary eyes with a good old fashioned hot brew is easy done in Palm Beach. Espresso Moto is located right on the Gold Coast Highway. We particularly love that this gem was created by two power couples (and the faces behind 8th Ave Terrace), so you know it's good – you can even pack your pooch!
Head a little further north and enjoy a sip or a freshly baked pastry from brand new bakery Mr Buttergoods tucked underneath Lester and Earl and run by the same crew. Combine your visit with your morning barrel search and the AM just became bangin'.
North again and it's all artisan coffee and brekkie bites at the ever popular Barefoot Barista in their new digs on Palm Beach Ave. But if you're in the mood for vegan delights, head within walking distance to Third Base Coffee. These guys encourage you to treat yourself – and who are we to argue?
Drink & Dine
Whether you're in the mood for a divey drink at The Scottish Prince, a succulent burger from Lester and Earl or a fancy Italian dinner at Balboa, Palm Beach has a little something for everyone. Nestle in at 8th Ave Terrace and enjoy next level dishes on the deck or indulge in pintxos and wine at San Sebastian.
Palm Beach is also home to its very own marketplace, The Collective. Offering everything from Italian and Mexican to Thai and American meals, giving a whole new meaning to dinner and drinks. Come together and relax on the rooftop or under the night stars in the courtyard, in what is known as the Gold Coast's coolest grazing restaurant. It's all here, baby!
Takeaway
Gotta dash? Pick up speedy takeaway Mexican eats from Goodness Gracias – the little yellow shop on the Gold Coast Highway you can't miss. No guilt here, the food is fresh and healthy, with a bunch of gluten-free, vegan and vegetarian options available.
After somethin' a little more cheeky? Well you're in luck, our favourite burger joint, Burgster, has its very own takeaway window, and we're callin' it, these burgers are to-die-for! (Just don't forget your side of poutine!).  On weekends, stop by Avvia for fresh blooms by Frankly and the Flowers, and grab a quick coffee in Avvia's cute window nook – an absolute given too!
Yoga & Pilates
Having a local's guide to Palm Beach's best bendy spots takes out all the fussing around searching for the perf ones (lucky you). Ritual Yoga is notorious for its homely feel and range of classes. Yep, these girls offer yoga, pilates and barre –plus it's run by two local sisters. And you've also got Pilates on Point where affordable and varied pilates classes are on the ready 5 days a week.
Shop
On the shopping front, Palmy is not short of places to whip the ol' wallet out and discover new treasures. The Haven Trader, hidden down in Philippine Parade (neighbours with Third Base!), is the kind of place you could spend all day moseying through, then resurfacing with a whole house full of new homewares.
Next stop, cute as a button Little Maisy, stocking one of a kind kids clothes, accessories and toys. Nope – no overwhelming plastic stench in sight! And while you're in the 'hood, check out White Bohemian, brimming with chic boho fashion, accessories and homeware goodies you'll fall in love with in an instant.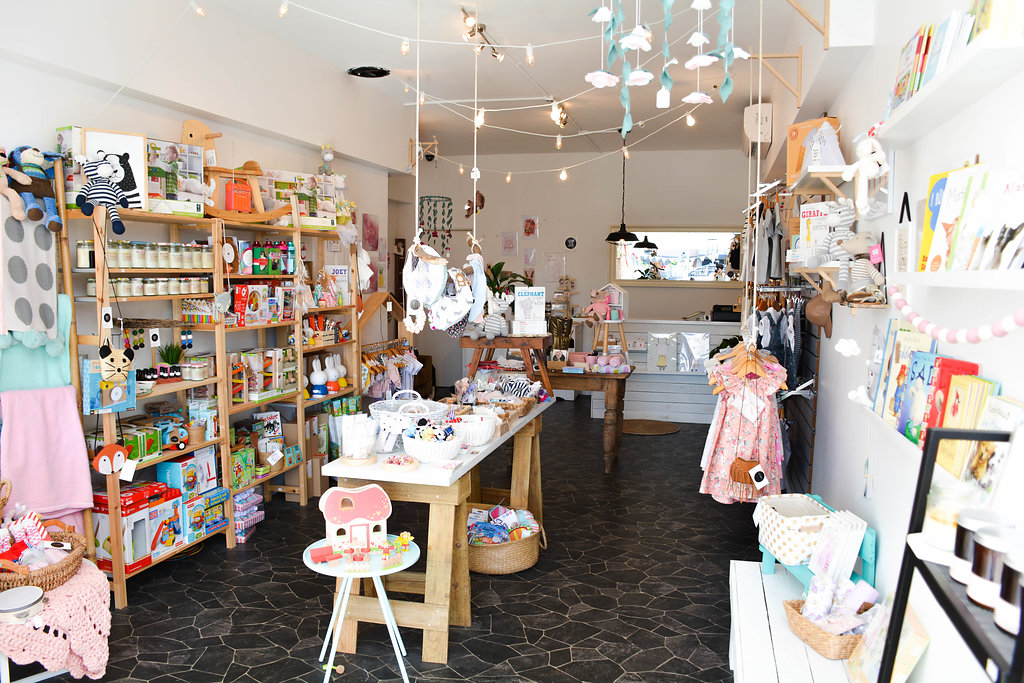 Lastly, a local's guide to Palm Beach wouldn't be complete without a peep into Pennant Surf Store where your surf needs are sorted. Everything from boards to boardies and trendy tees – yep, these guys have got your back.
Hair & Beauty
Boutique salons are all the rage with the locals in Palm Beach, so Ultra Suite Hair Bar is a no brainer to stop into. Fashion colours, cuts and bridal styling will see you va-va-voomed in no time. And for the fellas, Shipwreck Barbers, located right next to Pennant Surf Store, offers ripper cuts, shaves and even scissor tricks!
Photo Credit: Destination Gold Coast (8th Ave Terrace & Collective)